false
The ORX Cyber team hosted two in-person Cyber Forums this year in London and New York for our ORX Cyber subscribers and ORX members. Read on for more information and watch the videos for a summary of the forums.
The events offered an exclusive opportunity for second-line cyber and security risk professionals to network with peers and engage in discussions about the current key topics impacting the industry.
Across the two forums, we were joined by
The ORX team were also joined by McKinsey's experts, Jim Boehm in London and Rich Isenberg in New York, to provide insights on artificial intelligence (AI) and the key risks, as well as the optimum response being seen across the industry.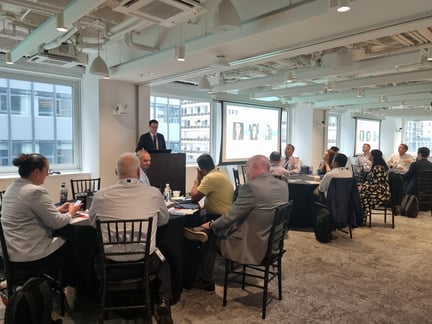 This year's topics included
Key concerns and priorities facing the cyber industry
Artificial intelligence
Data and metrics
Third party
Operating model collaboration


Key cyber risk concerns facing our community
Watch the summary videos for highlights from the forums
Watch the videos for highlights and takeaways from each forum. If you're part of the ORX Cyber community, you can also download the presentation slides from the forum webpages:
Video: Key takeaways from the North American Cyber Forum
Helen L'Abbate and Nikki Truss-West from ORX discuss key elements from the North American Cyber Forum in New York.
Video: European Cyber Forum 2023 Summary
Steve Bishop, Helen L'Abbate and Nikki Truss-West from ORX share their takeaways from the European Cyber Forum in London.
Looking ahead to 2024
The discussions and key topics covered at the forums will also shape future research and activities for the ORX Cyber Service in 2024 and beyond. Look out for details of next year's events that will also be held in Europe and North America.
Check out our latest ORX News podcast on the the top 3 key cybersecurity concerns amongst the ORX Cyber Forums attendees, as well as their top 3 cyber risk management priorities for the next 12 months for more information about this year's Cyber Forums.