false
The European Commission has confirmed that the new EU rules to implement the final part of the Basel III agreement will come into effect in 2025.Read on to find out more about what's happening and what it means for you and your team.
What's happening?
Contained within Basel III are new capital rules for operational risk, which were due to be implemented globally on 1 January 2023. The 2023 date itself, was a deferral of a year announced by Basel in 2020 in response to the Covid-19 pandemic.
Similarly, the UK has recently announced it will push back its implementation of Basel III to "post March 2023", citing pandemic-related delays. Details of this are contained within FCA/BoE regulatory initiatives grid.
These announcements prolong the uncertainty about the precise implementation of new minimum capital requirements for operational risk (the SMA finalised in 2017), and specifically the inclusion (or not) of historical loss data. An implementation date of 2025 prompts a couple of new observations:
The 10-year window of loss events that may be included in the calculation will go back as far as 2016, excluding many of the most material operational risk losses, some of which originated in the global financial crisis (GFC)
Furthermore, an implementation date of 2025 calls into question the validity of a capital calibration carried out eight years before in 2017
The Federal Reserve had been expected to publish its final plans for Basel III, soon, and in time for a January 2023 implementation. It will be interesting to see if the delays in Europe affect this timetable.
The BCBS view
A month ago, in late September, the BCBS published its latest Basel III monitoring report. At this stage, this confirmed an anticipated phase-in arrangement of January 2023.
This report also confirmed the first observation above that the influence of GFC losses is decreasing (Figure 1), and furthermore that the impact of the loss component on capital levels is likely to decline.
"Given the decreasing trend of losses and the fading out of the financial crisis losses in the upcoming years … the impact at the time of first implementation of the final Basel III framework may be overestimated due to the risk-sensitive feature of the ILM"
Loss evolution over the past 10 years
All banks, exchange rates as of the current reporting date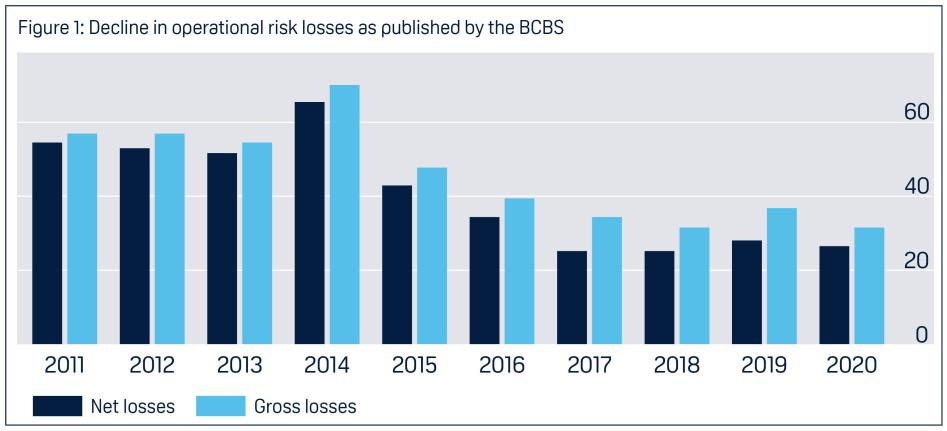 More on capital for ORX members
We are continuing to support our members in understanding their current and proposed regulatory capital levels through our annual capital benchmarking exercise. The 2021 version of which was published to participants in October, with the summary report to be shared with all members shortly.